No Nonsense Wedding Cakes
Make choosing your wedding cake a breeze with the Union Cakes collection of stylish, affordable wedding cakes to order online for your North West wedding.
Award winning, modern wedding cakes freshly baked to order in our professional 5 star rated kitchen, decorated by hand by our skilled artists and delivered by our dedicated team throughout the North West.
Simply select your favourite design and choose from six classic cake flavours to get your designer wedding cake for a great price. We're sure you'll find the perfect combination.
From the team behind designer cake studio, The Frostery.
Wedding Day Smiles
All those happy people coming together just for you!
And a special wedding cake to share with your family and friends is the most elegant and generous way to show them just how much they're cherished. 
A special wedding cake is a wedding cake that makes people smile.  Smile when they look at it and smile when they taste it and toast your happiness.
Affordable, Designer Wedding Cakes for The Best Day Ever!
A special wedding cake doesn't have to be expensive.
You can have a beautifully designed, modern, handmade, great tasting wedding cake to share with those closest to you without a budget blowout!
Our original selection of award winning, creative, smile-inducing wedding cakes are perfect if you're planning a modern, imaginative wedding which is more about you and your style and a little less about tradition.
Designer cake or Design-a-cake?
Select from our exclusive, great value Made4U designer collection of modern wedding cakes by the multi-award winning Manchester cake designer and TV Extreme Cake Maker, Suzanne Thorp owner of The Frostery.
Or if your wedding has unleashed your inner stylist, order one of the not-quite-naked, pURe style wedding cakes; a perfect blank canvas ready to be pimped by you! 
Whichever way you go, designer cake or design-a-cake, you're in control and we're here to help you wrap up your wedding preps in just a few simple steps.
Made 4U Designer Wedding Cakes
All Cake Designs © Union Cakes
Wedding Cakes for Manchester, Cheshire, Merseyside & Lancashire
If your Best Day Ever is going to be in the glorious North West of England, including Cheshire, Merseyside, West Yorkshire and most of Lancashire, then we'll deliver your wedding cake direct to your wedding venue from our award winning Union Cakes Kitchen in Greater Manchester. A full list of our delivery postcodes is available here.
If you would like to see our cakes in person, a small selection is available to view at The Aisle Edit in Saddleworth, a wedding shopping destination unlike anything else in the UK where the team will be on hand to chat about Union Cakes.
If you would like to try some of our cake before you place your order, you can order a taster box below
Availability for your wedding
You can order your wedding cake up to two years in advance of your wedding day. There is a date selector on the order page; if your date is available for selection then we have availability to make your wedding cake!
Finishing Touches
If you have a long guest list or a family with a particularly sweet tooth then you might find that you need a few extra portions of wedding cake.  Our cutting cake will (literally) fill the gap! 
And to give your wedding cake the perfect stage to shine, don't underestimate the difference that a beautiful cake stand will make to your display.
Union Cake Stand
Exclusive to Union Cakes, a contemporary acrylic cake stand will elevate your wedding cake to another level. 
Cake Stand
Cutting Cakes
If you think you need additional servings you can add an extra cutting cake to your order which stays in the kitchen to be cut along with your wedding cake.
Cutting cakes
Modern Wedding Cake Design
Delicious deep tiers of sponge, razor sharp edges and a fine finish are the foundations of a contemporary wedding cake and the hallmarks of the Union Cakes collection. Our design-led approach means that you can have all this and the expertise and skill of one of the UK's leading wedding cake designers at an affordable price.
Suzanne Thorp, Our Cake Curator
With her classic signature style and incredible attention to detail, our creative captain Suzanne, presents her own interpretation of the latest popular wedding cake trends as well as introducing more unusual contemporary designs in a small, ever changing, carefully curated collection.
A Special Time
Your best day ever will start with a stress-free engagement, so remember to spend time celebrating together, treating yourself well, and preparing for the adventure that lies ahead while you are planning for the big day.
Union Cakes offers the latest in professional wedding cake design at a budget friendly price, available to order online now, leaving you time to enjoy your engagement.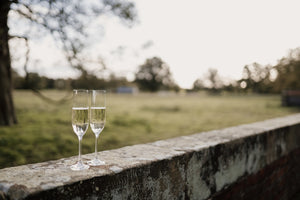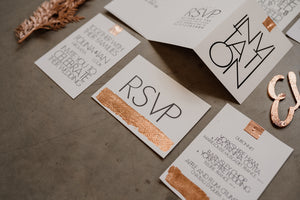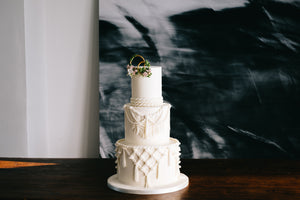 Sweetly Sustainable Wedding Cakes
Ordering your wedding cake from Union Cakes means ordering a real cake, freshly baked and decorated just for you. 
To do our little bit to help protect the environment we never use false tiers of polystyrene (which isn't biodegradable and will rarely be recycled) in any of our customers wedding cakes.